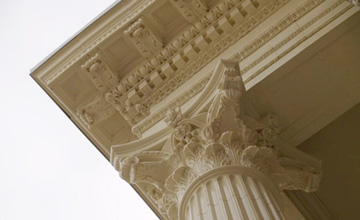 GFRC Advantages
GFRC (Glass Fiber Reinforced Concrete) GFRC is made of minerals and will not burn. In addition, the nature of Concrete acts like a thermal regulator when exposed to flame. GFRC not only will not burn, but it also protects the materials behind it from the heat of the flame.
Installation

GFRC is relatively light in weight compared to traditional stone or terra cotta ornaments. Its installation is quick and relatively easy. GFRC can be cast to virtually any shape. We supply GFRC wall panels, GFRC columns, GFRC Bas Relief, GFRC domes, GFRC capitals, GFRC fireplace surrounds, GFRC moldings, GFRC medallions and all types of custom GFRC shapes.

Finish

GFRC is available either with a cast in integral color and texture: limestone, precast, acid wash, etc. or as paint grade that is easily finished with virtually any paint.