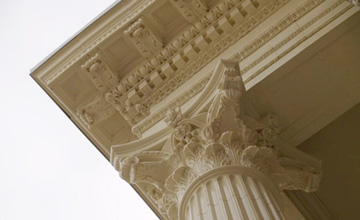 About TerraGlas® Terra Cotta
TerraGlas® is a molded architectural terra cotta composite with fiberglass reinforcing. TerraGlas® offers the traditional architectural terra cotta look and feel. It is available in limitless molded shapes to exactly replicate historical terra cotta elements. TerraGlas® terra cotta is available in both flat or glazed colors that can be carefully matched to existing terra cotta for restoration, replacement or re-creation. Made from natural terra cotta, aggregates, and minerals and reinforced with glass fibers, TerraGlas® provides the look, shape, feel and appearance of historic terra cotta, but without the weight and brittleness. The reduced weight reduces the load on the historic structure and the installation costs are significantly less.
Replication and Restoration
TerraGlas® offers the ability to closely match existing architectural terra cotta in color, shade and texture. TerraGlas®.does not have the shrinkage issues that plague traditional architectural terra cotta. This allows a virtually identical match of historic terra cotta architectural details to be created. For restoration and replacement, in order to achieve a custom color and finish match, we require a small physical sample of the desired color and texture.
TerraGlas® is a pre-finished material, and we strongly recommend that it be installed by skilled restoration contractors, experienced stone masons or finish carpenters. The material is cut and installed using diamond saws or angle grinders. In some cases TerraGlas® can assist with installation or recommend a quality contractor.
TerraGlas® Terra Cotta Advantages
Stronger
Lighter
More cost effective
Shorter lead times
More accurate reproductions
TerraGlas® Terra Cotta Features
Lightweight reduces load on the structure and simplifies installation
Extremely good replication of details
Frost, weather and water resistant
Higher impact strength than traditional terra cotta
Will not burn. Class A non combustible material
Fast lead times
Simplified installation
Resistant to hurricanes and seismic loads
From a company with 30 years experience on some of America's best loved landmarks: The White House, The Smithsonian, The Capitol, Yale University, Harvard, etc.
In house R & D laboratory to custom match colors and textures.
CAD generated comprehensive shop drawings.
Advanced molding technology coupled with a love and respect for traditional craftsmanship
Need help with your project? Questions about details, specifications or attachment? Give us a call, we are here to help.