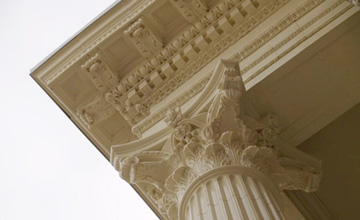 Basic Uses and Limitations of TerraGlas® Architectural Terra Cotta
Historic Preservation, Restoration, Renovation of Historic Structures
The renovation and preservation of older buildings can be challenging. Terra Cotta was widely used from the 1860's to the 1930's on many significant and beautiful buildings. In some cases the terra cotta is now damaged, failing or missing due to weather, rust of anchors, glaze failures and other problems. TerraGlas® Terra Cotta offers an accepted and approved method of making cost effective and timely replacement of the old failing terra cotta elements with an in kind material. By combining the durability of terra cotta with the strength of glass fiber reinforcing, TerraGlas® Terra cotta offers the look, feel and weathering of terra cotta in a lighter weight, more impact resistant material.
Replication
Often the original terra cotta elements are missing completely and all that remain are old drawings or photographs. We can help with the restoration and replacement of terra cotta even if there are no existing pieces to take molds from.
New Construction
Often new construction benefits from the use of architectural details in Terra cotta. We can provide a stronger, lighter and more economical alternative to traditional terra cotta.
Limitations
TerraGlas® Terra Cotta is not meant as a structural material in itself but as a cladding. When used as columns, the columns are generally meant to surround a support column. The dimensions of TerraGlas are:
Maximum Dimensions

| | |
| --- | --- |
| Panel Widths | 8'6" |
| Panel Lengths | 14' |
| Thickness of shell | From 0.35" to 1.5" |
Need help with your project? Questions about details, specifications or attachment? Give us a call, we are here to help.